'Mad Mad Mad' in a commercial for Smart eBike



We are a new band: GRAM 3.0!
07-Sep-2012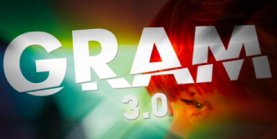 Never stand still, always keep re-inventing yourself. It's 2012 now. Time for a new album, a new sound... a new band! Welcome to Jasper Verburgh on drums & samples, Bas van Geldere on bass & guitar, and to a whole bunch of synths we just purchased. Read more about the new set-up
here
.